RJUHSD Local Scholarship Program
Seniors have the opportunity to earn money from our local community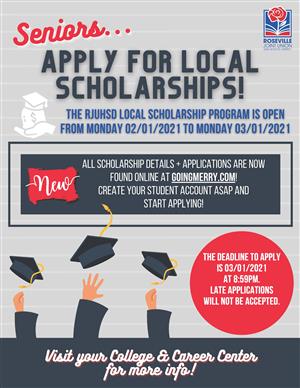 Starting February 1, the local RJUHSD scholarship program will be starting, which will help give seniors the opportunity to earn money for college. 
The program in our district offers seniors scholarships from local businesses, clubs, alumni, and community organizations. Last year, this program helped earn the class of 2020 alone a total of $32,300 and the district as a whole earned $246, 850. 
Amy Price, Oakmont's College and Career's Technician, will be holding a virtual information session for any students who have any questions about the program on January 29, at 2:00 p.m.
The Zoom Meeting ID is 816 6411 8710 and the passcode is m3i8bG.
Seniors! Check this out if you are interested in earning some money that will help with college expenses.