Weathering with You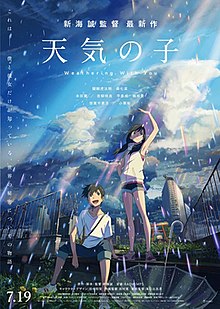 The 2019 animated romantic fantasy film "Weathering with You" is a supernatural film that was written and directed by Makoto Shinkai. 
The film was released in Japan on July 19, 2019 and then in North America with English language options on January 17, 2020. 
The movie is set during a time in Japan where the weather is very rainy and follows a sixteen year old boy, Hodaka Morishima, as he runs away from his countryside home to the great city of Tokyo. There he meets a girl, Hina Amano, who was one of the legendary sunshine girls and has the ability to manipulate the weather to make the sun shine. The story continues to show us how their relationship blossoms and the problems the two faced due to the hardships of the past.
I personally loved this movie and the storyline very much. The animation was breathtaking and the supernatural plot made the movie very fun to watch. Not only was the movie amazing, but the music composed by RADWIMPS was beautiful and perfect for the movie. 
Overall, I would rate this movie as an 8/10 because of the interesting plot and for the music that was composed for the movie. I would recommend this movie to help one get into the anime genre to help show the beautiful plots, characters, and animation that the anime world has to offer.
Sites like YouTube, Vudu, and Amazon Prime Video have the movie to rent in both English and Japanese audio and subtitled options.