New Member of the Oakmont Staff Family
Meet our new part time librarian, Megan Blue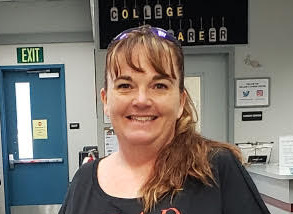 This year Oakmont has received a part time librarian who splits her time between Woodcreek and Oakmont. This new addition to the Oakmont family is Megan Blue. She was previously working full time at Woodcreek, but has now been transferred to split her time between both schools. 
"I love my time at Oakmont; the staff have been very welcoming and I think I'm finally getting my feet wet," Blue said.
Blue is finally settling into a new routine working both here at Oakmont and over at Woodcreek. She is most looking forward to having students return to campus and finally being able to interact with them. She is also looking forward to the teaching part of being a librarian. 
"I really look forward to expanding our ebook offerings," Blue said, "What we had before was a solid nonfiction collection . . . but not a lot of fun stuff to read, so I'm working on expanding that."
Blue commented on how the nonfiction ebook collection was great for research, but she also knows that student taste varies in their readings, so she is hoping to bring more options for them. Much like the student's her taste in books also differs.

"One of my all time favorite books is 'Eat, Pray, Love' simply because every time I read it, I get something different out of it," Blue said.
Her favorite author at the moment for young adult literature is Jason Reynolds, who addresses rasism and discrimination in his writing. She commented on how his books would draw you in really quickly and leave you hooked. 
Aside from reading, Blue enjoys very niche hobbies.
"My favorite hobby right now . . . is acrylic pour painting," Blue said. "You pour paint in certain patterns on a canvas. It's almost always abstract because you can't really control what happens."
She uses vases for her art instead of canvases and loves that they all turn out differently. Blue is also a big fan of softball, but has been unable to play due to COVID-19.
Another essential part of Blue's identity is her overwhelming Christmas spirit. Blue is eager for Christmas to come around and has already begun the festivities. 
"Christmas . . . that's my all time favorite," Blue said. "We actually set all of our Christmas decorations out the day after Halloween."
Megan Blue is really excited to have the students return to campus soon. She is busy preparing for that time.
About the Contributor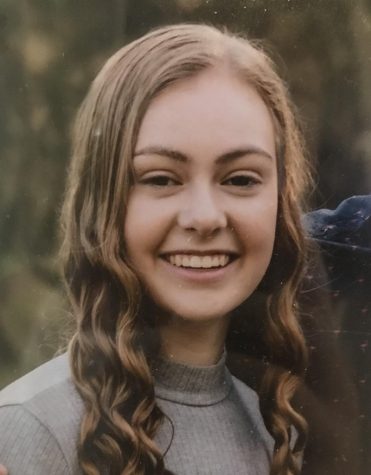 Laurie Lencioni, Staff Writer
Laurie Lencioni is a junior and this is her first year working with the Norse Notes Staff. She is really looking forward to learning more about the school...