Ethnics Studies Coming to Oakmont
The new class on campus that will help influence the study of cultures
A new ethnics studies course that focuses on teaching students many different cultures from around the world is coming to Oakmont next year.
"The intent of the course is to cover a broad reaching pool of cultures from around the country and the world," Principal Robert Hasty said. "Connecting [these cultures] to the Roseville community [to show] students that their experience isn't the only experience out there."
Talking about culture, diversity and different experiences is what this class has set its sights on. The coverage of these topics is something many students can look forward to, and the class provides a safe environment where everyone can learn about the different aspects of the world.
"My hope is that this course will help us to celebrate the wonderfully diverse culture we have here at Oakmont and build empathy and understanding," social studies teacher Katherine Sunseri said. "Our theme at Oakmont this year is 'our stories, our family,' and that is really the theme of the course as well. We will learn how to listen to one another and have productive conversations with one another. " 
The goal of this course is that students will be educated on diversity to have a thorough understanding of all the cultures out there. Everyone has their own story to tell and this class fosters that ideal to its very core.
"It's important for us to learn about different cultures," senior Misha Majhail said. "Cross-cultural experiences help us learn that there is more than one way of thinking."
Understanding one another is an underlying problem that many people struggle with. This class tackles that issue head-on and it lets people discuss the different aspects of culture to show that everyone is unique in their own way.
"We look at other people and we make assumptions about them, we generalize about them as opposed to looking at somebody as a human," Hasty said. "Mr. Everts, one of our teachers, talks about the word agape, meaning love, but it's not a romantic love, it's a 'I love you because you are human like me and I respect you and care for you.'"
Respecting, understanding, and loving one another for who they are is what this class values more than anything else. Coming out of this course having these values is what the class hopes to accomplish on its journey to learning everyone's stories.
"This course will give students the opportunity to share their own stories and listen to those of others," Sunseri said. "It will help students build not just tolerance for others, but genuine understanding, respect, and compassion. This will make our Oakmont community stronger."
About the Writer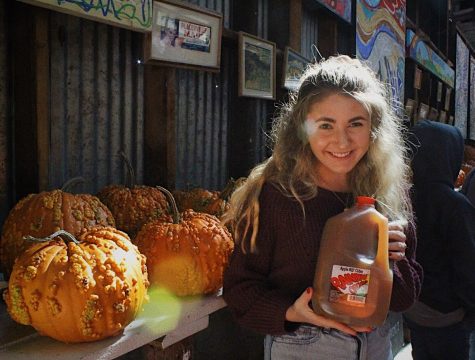 Marika Alexander, Staff Writer
Marika Alexander is a senior and this is her second year working on the Norse Notes staff. Outside of Journalism, Marika loves to hang out with her friends...