Looking to start an anime?
A list of some great first anime you can find on Netflix
With the recent trending topic anime going throughout TikTok people everywhere are starting the search for their first anime.
A great place to start is Netflix. They have a wide variety of genres and a lot of the classic favorites. 
If you are looking for a sad romance, "Your Lie in April" is where to start. This personally was my first anime and it was absolutely amazing. "Your Lie in April" is about a young pianist and violinist who find each other and change each other's worlds. It's rated Tv-14 and has about 22 episodes. It has absolutely beautiful art and will definitely leave you shedding a few tears by the end. 
If you are looking for a movie to watch, a great sad romance is "A Silent Voice". This one is about a boy who looks to reach out and make amends  to his former classmate, a deaf girl he tormented and bullied throughout grade school. This anime is rated TV-14 and runs for about 2 hours.
Or maybe you want to go for something a bit more light hearted. A good anime to go with is "The Disastrous Life of Saiki K". This comedy is favored by many. You get to follow the everyday life of a high school student born with psychic powers and his never ending struggle of hiding from his classmates. It is rated Tv-14 with 3 seasons totaling in 50 episodes. I promise you will get more than a few chuckles out of this one. 
Trying to get spooked? "Parasyte the Maxim" and "Death Note" are two fantastic anime to go with. Parasyte is about a highschooler whose arm gets taken over by a talking Parasite named Miki, together they go and save the world from other human devouring parasites. It is rather gory, so it is rated TV-MA with 24 episodes. Death Note is a story about a genius student, Light Yagami, who comes across a Shinigami's (a Japanese demon) notebook. Anybody's name you write in the note shall die. Light takes advantage of this new power to create a new better world but not everyone agrees with it. These two are my personal favorites and I can promise they will leave you in shock.
Netflix is a great place to start with anime. They have great originals and some live action versions also. But don't be scared to watch something you haven't heard of before you just might find your next favorite show.
Leave a Comment
About the Contributor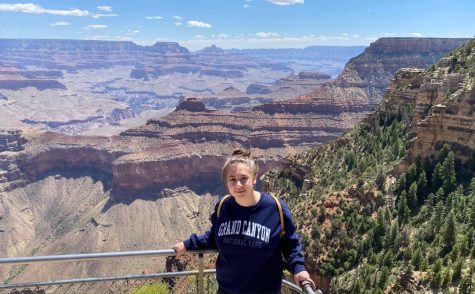 Sofia Davalos, Staff Writer
Sofia is a sophomore at Oakmont and is excited that this will be her second year on the Norse Notes staff. Outside of journalism, Sofia enjoys hanging...