COVID-19's Toll on Student Athletics
How Oakmont athletes are affected by the pandemic
COVID-19 has left a void for student athletes at Oakmont as their seasons have been halted and postponed, adding it to the list of activities irrevocably affected by the pandemic.
"The pandemic has affected me and my teammates because volleyball is a sport that consists of six players and requires a large amount of teamwork, but because of pandemic, we weren't able to practice together, which completely creates an imbalance in our coordination," junior volleyball player Kenneth Widjaja said. "It completely destroyed the team composition."
Athletes at Oakmont particularly miss the team dynamic of their sports, a consequence of the reclusive implications of the pandemic.
"I miss going to play my sports after school with my friends and having fun during practices," junior soccer, tennis, and track athlete Breanne Bair said.
Postponing all sports has taken an emotional and physical toll on athletes as their routine was completely compromised.
"I went from running everyday for months, and then completely stopping training; It has made me feel discouraged," junior cross country and track runner Lois Sison said. "Physically, I am definitely not in the shape I would have been if sports hadn't been cancelled."
Despite their seasons being postponed, athletes are maximizing their free time by training at home, and some fall sports are beginning conditioning at Oakmont this week.
"I go on runs everyday and practice my soccer and tennis skills as often as possible in order to stay in shape and be prepared for when sports are allowed to be played again," Bair said.
In the interest of slowing the spread of COVID-19 however, students believe that it is completely necessary to postpone sports until it's safe.
"Even though I love to play the sports, everyone's health is more important," Bair said. " We should take care of the pandemic before worrying about being able to play again."
At the professional level, sports are being cautious with how they handle resuming their seasons, which athletes at Oakmont believe sets a good example of how socially distanced sporting events should be executed.
"Professional sports being resumed sets a good example for high school sports," Widjaja said. "The idea of virtual seating is an innovative way to minimize the danger of contracting corona, but in turn, can maximize economically."
However, some students believe the extents taken for precaution at the professional level are not pragmatic for high school sports because they don't have the same resources.
"Since the NBA is continuing in a 'bubble,' I would say it's setting a good example but not a realistic one," Sison said. "High schoolers can't spend 3 months in an isolated location and get tested every week just to play a sport. The NBA is showing good efforts to keep all the players safe, but high schools can't maintain that same level of security for the students."
Despite lacking professional level resources to handle sports safely, the administration has been doing everything in its power to take precautions while still allowing sports to continue.
"Sports are being handled as best they can right now at Oakmont with everything going on," Bair said.
About the Contributor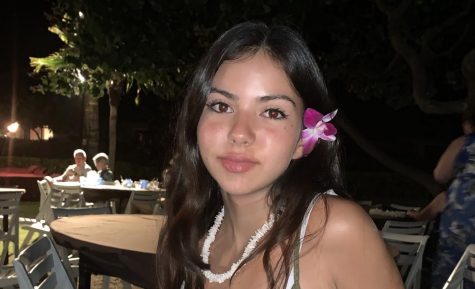 Valentina Moreno, Editor in Chief
Valentina Moreno is a senior at Oakmont and is in her third semester of working on Norse Notes. She loves to play tennis, paint, read, and play the piano....