The brand new dance room
Exploring the new classroom of one of the most loved classes on campus
After almost a year, the  new dance room has finally opened, causing many Oakmont's students to become eager to come back to campus. 
"This is something that I have been waiting for, for 13 years," dance teacher Cami Bennencourt said. "I see it has validation that my program is very successful and that all the hard work me and my students have put in are finally paying off."
At Oakmont, the dance program is one of the most popular performing arts classes. Because of its popularity, the old dance room just couldn't keep up with the necessities required to cover its students.  
"Although we have a great program already, I feel like it will give my students a bigger purpose," Bettencourt said.  "They will feel like we matter more and that we deserve a beautiful [room] for such a great program."
The new dance room is not only bigger in size, but has more dance equipment, a new marble floor, locker rooms, air conditioning, and storage to improve the dance shows and other dance programs. Many students are excited to try out these new advantages this dance room has.
"I'm most excited for dance team practices in there,"  senior Saraya Jimenez-Bedal said. "The first dance room has created so many memories for me, and I can't wait to create more with the best team in the beautiful new [room]."
As this new room is introduced to campus, many student's like Jimenez-Bedal can't wait to make more wonderful memories in this room like they did in the old one. The dance room is a safe environment that many students utilize to express themselves in the best way they know how—through dance.
"[The new room] will improve [the atmosphere] so much" Jimenez-Bedal said. "It will interest more people and the people already in dance will gain more love for dancing and all the fun times we have in there."
With the new school year recently starting, the new room hasn't been able to shine in its glory yet due to distance learning, but it is ready for many students to come dance in it.
"I am so blessed to have such a great job and now I have a beautiful room to go with it," Bettencourt said.
About the Contributor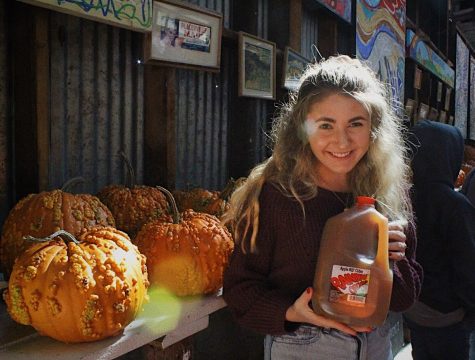 Marika Alexander, Staff Writer
Marika Alexander is a senior and this is her second year working on the Norse Notes staff. Outside of Journalism, Marika loves to hang out with her friends...