New spots on Sunrise
Review of the three new eateries on Sunrise Blvd
Emily Rojas, Staff Writer, Photographer, Editor, & Designer
August 27, 2019
As of this year, a few eateries such as: The Bomb Tea Shop, Tea Republic, and Bonsai Japanese Cuisine have opened up on Sunrise Blvd and are beginning to attract many Oakmont students.
As a selfless act of community service, I took it upon myself to go to each establishment and sample the most popular items on their menu.
First, I went to The Bomb Tea Shop. My initial impression was that it was very chic and futuristic. It had a monochromatic theme of varying off-white colors and felt very spacious. I asked for their most popular order, and I was presented with the Matcha Sakura (rose milk with matcha green tea) with boba pearls. I liked how I was able to watch the employees make the drink and how there were board games available for customer use. They were quick since I did not wait more than five minutes for my order. The drink appeared bland, but the flavor of it was very sweet and something I had not expected. As for their boba, it was the perfect texture. I would more than likely go there again for boba in the future.
Next, I went across the street to Tea Republic. Their aesthetic was more modern and had a nature ambiance than the first shop. It had a lot of natural-toned decorations. Again, I asked for their most popular drink and they began to tell me about the Autumn Fairy with lychee jelly. The wait was a lot longer than the previous shop, about ten minutes to be specific. When I got my drink, I was immediately drawn to how visually appealing it was. This was not just a drink–it was art. It was very refreshing, and quite simply tasted like summer. At the bottom, it had raspberry green tea and chopped strawberries and was topped off with sparkling water. I am definitely going to be a frequent customer.
Finally, I stopped at Bonsai Japanese Cuisine. When I walked in, I was immediately seated at a  booth by a waiter. Their establishment was very spacious and had a modern vibe to it. There was a lot of wooden furniture and red cloth for decorations. The waiter and the entire staff were incredibly kind and on top of their work. My glass was always filled with water, and I did not have to ask for anything. Once again, I asked for their most popular entrees. I got the four seasons roll and the spicy tuna roll. The wait for the food was reasonable, about ten minutes, which during that time, they served complimentary edamame. When it arrived, it was very visually appealing and appeared and smelled very fresh. The sushi itself tasted amazing and the customer service was phenomenal. I recommend this as a date-spot. However, I will most likely be a solo diner when I return in the near future, since the sushi was that amazing.
Ultimately, these three new establishments are all relatively inexpensive and very enjoyable. I think they are going to become my go-to stops when I am craving sushi or tea, and I would definitely recommend them to anyone in the same situation.
About the Writer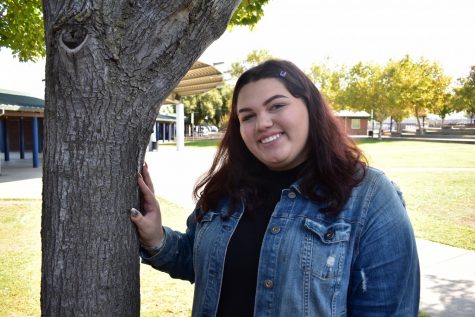 Emily Rojas, Editor-in-Chief
Emily Rojas has been on the Norse Notes staff for 4 years, and currently fulfills the roles of editor-in-chief, head photographer, as well as head designer....