Living with Dying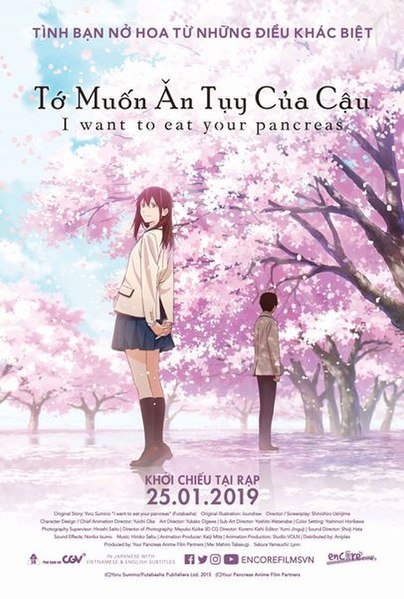 Jascha Molina, Staff Writer, Features Editor, & Designer
March 1, 2019
Based on the award-winning web novel "I Want to Eat Your Pancreas" by Japanese writer, Yoru Sumino, this intriguing and unsettling title is not what it seems. Although people may think this film is about cannibalism, it is actually based on an old myth stating that eating a certain body part will make one's body part feel better.
The novel was released November 2018 and the animation came out in theatres on February 7, 2019 (subtitled) and February 10, 2019 (dubbed). It captures an emotional journey between two high school students who are polar opposites. It also reveals a meaningful message of life to readers and viewers. An extroverted girl, Sakura Yamauchi shares her secret of dying from pancreatic cancer to an introverted boy, who picked up her journal and read her secret when they were both in the hospital. With the doctors only offering her reality, her parents filled with sadness, and the fear of her friends becoming more distant, Sakura believes that this boy was the only person to make her feel "normal".  
With pancreatic cancer being a terminal and incurable illness, I can honestly state that viewers should expect an unhappy and unfortunate ending. I would rate this novel a solid 9/10, and I am not afraid to admit that it left me with several tears.
This novel can be bought in stores such as Barnes & Noble or online on Amazon.com. The full movie of the subtitled animation can also be watched on Kissanime.ru.