Mama Mia!
Hang on for a minute...we're trying to find some more stories you might like.
For our first ever food review, we wanted to start things off right — and what is more classic than spaghetti and meatballs? We decided to go to three different places with three different price points to find out which dish was the best and which dish gave the best bang for your buck.
Our first stop: Il Fornaio at the Galleria. You walk in and the first word that comes to mind is luxury. The ceilings are high, the decor is lush, and the ambiance is pompous. We had made a reservation, although at 2:30 in the afternoon it was not needed, and we were seated right away. The service was excellent and our waiter was incredibly friendly. About two minutes after we sat down they were pouring us water, serving us warm bread with oil and vinegar, and taking our orders.
I ordered the Spaghetti con Polpettine (meatballs), priced at $18.95, and Effie ordered the Conchiglie Al Pollo which was by far the better dish. After a mere nine-minute wait our food was served. The portion was large with six meatballs. We agreed these were the best meatballs out of all three restaurants because they had the real consistency of meat, something the others surprisingly lacked. However, we also agreed the sauce tasted straight out of a can, and after a few minutes, the taste of the peas and mushrooms atop the dish tainted the flavor making it incredibly sweet.
For our next place, we decided to go to Noodles and Co., located in the Fountains, a chain restaurant found throughout the United States. Right off the bat, this feels like a fast food restaurant. The atmosphere felt cold, just like the cheese on the spaghetti. If you're looking for a scrumptious spaghetti and meatballs fine dining experience, look elsewhere. But if you're looking for a quick bite this may be the place for you.
The spaghetti and meatballs, $5.80, came in a reasonable proportion, albeit the smallest of the three, with 5 meatballs. The bowl came in three minutes and was lukewarm. The meatballs were small and the sauce tasted very artificial – all in all what you would expect.
Our last stop was Vaiano Trattoria, a small local business in Granite Bay. A very homely feel as soon as you walk in, and Effie and I were seated as soon as we walked in. They gave us a moderate amount of time to look over the menu. We took a quick look at our surroundings-it was a warm and nice place, and not crowded either. We ordered our food and the waiter was very friendly. They also gave us delicious breadsticks, and we thoroughly enjoyed them. It took about 15 minutes for our food to come out, slower than we previously experienced, but we didn't mind the wait.
When the noodles came, the presentation was very nice, and the smell was delightful. The noodles were a large portion and had four meatballs. The noodles itself could be said as perfectly cooked and weren't too hot. For $15, it was well worth our money.
All three places were delicious, however, we agree that Il Fornaio was most worth our money, with Vaiano Trattoria coming close behind them. The flavors of the spaghetti and meatballs from Il Fornaio was very original and was perfectly seasoned. They transported us straight to Italy. However, we would agree if you are looking for a nice homey spot for a comfy dinner with friends or family we would definitely recommend trying out Vaiano Trattoria. Overall we would recommend trying both Il Fornaio and Vaiano Trattoria for a good Italian meal.
About the Writer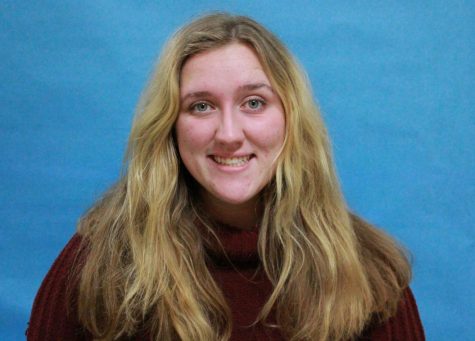 Aubrey Smith, Staff Writer
Aubrey Smith is a sophomore and a second-year staff writer for Norse Notes. In her free time, she enjoys playing softball and spending time with her dog...