Queen Elizabeth ll – 70 Years of Power
From the past to present, Queen Elizabeth II and her legacy.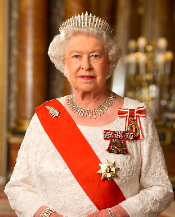 Queen Elizabeth II, the eldest daughter of Prince Albert and Lady Elizabeth Bowes-Lyon, passed away on Sept. 8th, 2022. 
When she was a princess, Elizabeth II had little knowledge on how to accede the throne as the granddaughter of King George V. Alas, she later came to hold the longest reigning term in the monarchy when she surpassed Queen Victoria of the United Kingdom in 2015. 
Over the span of her life, Elizabeth II governed a number of territories and realms, a few of which were the United Kingdom of Great Britain and Northern Ireland from Feb. 6, 1952 until Sept. 8, 2022. 
Beyond this, Elizabeth II was open with her Christan faith and took the title as Defender of Faith, and Head of the Commonwealth, representing millions of people. 
Elizabeth II, with 70 years of service in the monarch, was noted for her modernization of the monarch, the government, and political affairs. 
Although, within the past couple of months, Elizabeth II had experienced mobility issues. Beyond this, Elizabeth II had a long-standing record of health issues, especially after experiencing COVID-19 earlier this year. 
After Elizabeth II was placed under medical supervision, her family traveled to Balmoral, where she passed away peacefully at age 96. 
Prior to Elizabeth II's death, a plan called Operation London Bridge was created in the early 1960's, it held the details to her funeral, and was finally completed just before Elizabeth II's death. 
In short, Operation London Bridge began with the announcement of Elizabeth II's death, a period of time reserved for mourning, ending with her funeral. The preparation for Elizabeth II's death, and her funeral, has been planned by the Cabinet Office. 
The union flags flew across the government buildings, and within the next couple of days, King Charles III was formally proclamated as King. 
Currently, King Charles III has gained the power of the United Kingdom, as well as 14 other Commonwealth realms, most notably Australia and Canada. 
As that day was considered a national day of commemoration, Australia may declare the proclamation of King Charles III to be a public holiday. 
In Canada, in response to the mourning period outlined by Operation London Bridge, a national memorial parade and service was overseen by the Department of Canadian Heritage. 
Determined by the prime minister of New Zealand, gun salutes, overseas ceremonies, and events were held to honor Queen Elizabeth II's life. 
Leaders from all over the world have noted Elizabeth II in her legacy, monarch history, and her outstanding service.