Kicking It with Jared Navarro
The sophomore reflects on his time playing Oakmont soccer so far.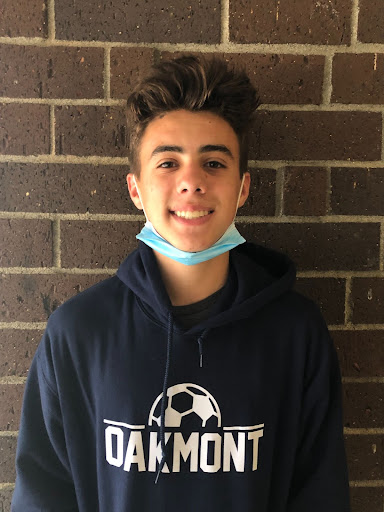 Sophomore Jared Navarro has been on the varsity soccer team for the past two years. His teammates and supportive environment have provided him with an enjoyable experience during his time  on the field.
Navarro has been playing soccer for about a decade now, and his field position is winger due to his superior running ability and the help it does for his team.
"I mostly play winger…because I have the most fun in that position," Navarro said. "I get to run a lot, and I'm a good runner. I have great endurance, and I feel like I just help my team out the most in that position."
Navarro likes soccer for the sport, but his favorite part is being with his team and making new friends. His supportive teammates help make his season more enjoyable.
"Everyone supports each other, so I would say it's the best part of the sport," Navarro said. "You make a lot of friends and you just have a bunch of fun together, and it just makes the whole experience a lot better."
Navarro's teammate Andrew Vasquez notes that he is a great teammate who is always willing to help out, and he has a winning and supportive attitude on the field.
"[He is] encouraging other teammates to not give up, whether their score is 6-0 we're losing, or 6-0 we're winning, [he] just keeps up the same mentality," Vasquez said. "He'll help out the team in whatever way he needs to, just say it."
Although the soccer season last year was hard because of the pandemic, this year's season has been great for Navarro. The team has allowed him to meet new people and make new friends both on and off the field.
"So far [the season] has been great," Navarro said. "Last year was tough because of COVID, but being with the team and stuff, I got to meet a bunch of new people."
Aside from playing soccer for Oakmont, Navarro is a part of Granite Bay FC. Although playing for school is harder and more challenging than his club team, he enjoys working hard for our team.
"I would say playing for high school is a lot tougher and a lot more competitive," Navarro said. "I see myself working harder for Oakmont, so that's probably the only reason why I would say playing for Oakmont is sometimes better."
Navarro intends on playing for the school until his senior year, because of how pleasant his time has been so far.
"I plan on playing all the way up to my senior year," Navarro said. "I'm not really seeing a reason not to play right now."
Navarro does not want to pursue a career in professional soccer, but he thinks he would enjoy college soccer for the potential good times he would have.
"I don't want to go professional, but I do see a chance of myself playing in college," Navarro said. "I would only play college for the experience as well."
Another one of Navarro's teammates, Ivan Sanchez, knows he has the determination and confidence to play at higher levels. 
"He is always optimistic to get himself to a better place, and he has the confidence," Sanchez said. "I feel like if he keeps on working as hard as he does, he could definitely make it.