What's Next for Conor McGregor in the UFC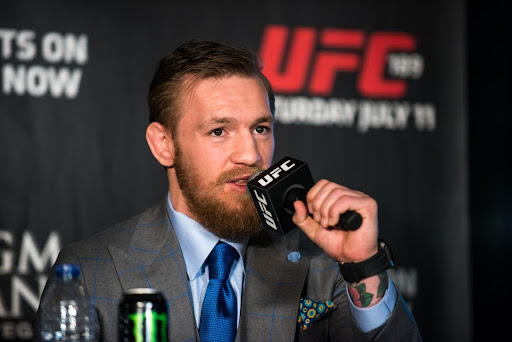 Conor McGregor, the first simultaneous two weight division champion of the UFC, has transformed the sport of MMA as he soared to new heights at UFC 205. His UFC success allowed him to fight Floyd Mayweather in the second-highest grossing PPV of all time; however, following this fight, McGregor has only won one fight of his last four UFC fights. This begs the question as to what's next for McGregor. 
First, while McGregor has been on a bit of a losing streak, he has only lost to top competition. He managed to go four rounds with undefeated former champion Khabib Nurmagomedov before being submitted, and in his two most recent outings with Dustin Porier, Porier was ranked at the top of the lightweight division. This caveat demonstrates that it would be illogical to call McGregor's career over, while it is difficult to find the right fights for him considering that he is now only a main event PPV fighter. 
As of now, McGregor sits at No. 9 in the lightweight division. Throughout his career, he has fought in three different weight classes: featherweight, lightweight, and welterweight. This opens a variety of potential opponents. 
Many believe that the most logical fight to make for McGregor is a trilogy fight against Stockton's Nate Diaz. Diaz has recently lost two in a row against Jorge Masvidal, and then Leon Edwards. McGregor and Diaz last fought in 2016, where McGregor avenged his loss via majority decision. This fight simply doesn't make sense given the current situation. While it is a highly anticipated fight, it is likely that this won't bring in a large amount of PPV buys because both fighters are on losing streaks. Additionally, while this win would impact their legacies, it would not put either back into title contention in any given weight class. 
Next is a potential fight against the BMF champion Jorge "Gamebred" Masvidal. McGregor and Masvidal exchange words on social media quite often, and since they are both predominantly strikers, it would be an exciting fight and allow both to showcase their skills without much of a takedown threat. Masvidal, currently No. 7 in the welterweight division, has lost two back-to-back fights against the current champion Kamaru Usman. 
This matchup would likely generate a large amount of PPV buys, and since they are both ranked fighters, a win for either could get them that much closer to a shot at the title. The only downside to the Masvidal fight scenario is that there are far more wrestlers at welterweight, which would prove to be a substantial obstacle for McGregor. 
In the lightweight division, the biggest but most reasonable fight that could be made would be against the No. 5 ranked lightweight contender Michael Chandler. This fight could easily sell out an arena, and headline a PPV. Chandler has lost two in a row, but these losses have been to the best of the division, as he lost a close fight against champion Charles Oliveira, and put on an action packed, brutal fight against No. 2 ranked Justin Gaethje. 
McGregor and Chandler have called each other out on social media, and their current rankings —mixed with the magnitude of that fight—could allow the winner to get a title shot. While this is an exciting matchup, it might not be the best for McGregor, as Chandler is a highly skilled wrestler, and is an explosive striker. 
In the featherweight division, one name stands out: Max Holloway. The former champion and McGregor have faced each other before in 2013, which saw McGregor win by decision. Both McGregor and Holloway have expressed an interest in fighting one another recently, with McGregor calling out and teasing a fight against Holloway during UFC Vegas 42.
Holloway is currently the No. 1 ranked featherweight contender, and stylistically, this matchup might be the best for McGregor. Both are strikers, however, it is likely that McGregor has more power than Holloway at 145—increasing his chances of victory. The hype for this fight would generate a great amount of PPV buys, and if McGregor won, it would show that he was truly back, as Holloway has beaten multiple contenders in dominant fashion, and fought two close fights against the featherweight champion Alexander Volkanovski. 
Most UFC fans are looking forward to McGregor's return to the octagon following his injury at UFC 264. However, while McGregor is still the UFC's biggest draw, his next fight needs to be one that is exciting, but also one that shows he is still a contender in the UFC. This would keep the McGregor PPV draw strong, and potentially allow the UFC to make the biggest championship fight yet.