Preparing For Oakmont's Fall Dance Show
Dancers are returning to the stage for Oakmont's 2021 fall dance show.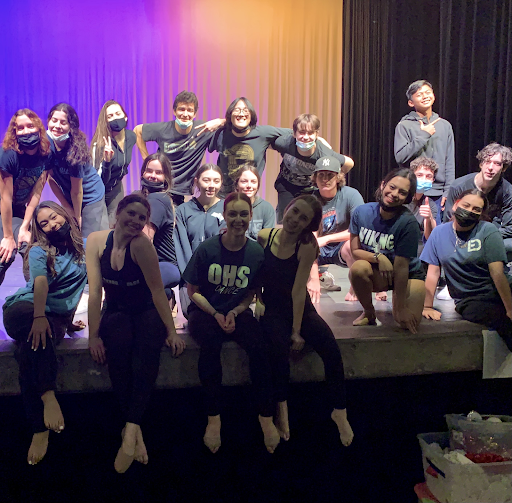 In preparation for Oakmont's fall dance show, dancers of every level are spending time getting reday for an exciting, on stage performance for the first time in two years. 
"We've been preparing by doing extra rehearsals and during class time we go to the theater and we just run our dances," Dance 3 student Faith Bachman said.
Preparation outside of class is crucial for the success of the dance show. Dancers will spend the first half of the week leading up to the performance at three hour after-school rehearsals and will perform a total of four shows over the last half of the week. The work leading up to the show has proven that it is important to be both prepared mentally and physically. 
 "Outside of class, I am making sure to stay on top of my health," Dance 4 student Sydney Schell said. "I'm making sure to stretch and get plenty of food and water to make sure my body is prepared."
Dance 1 student directors Emma McHugh and Isabelle Vargas have been spending a lot of time making sure the less experienced dancers in the show feel confident in themselves and are excited to perform for the first time. 
When asked what she is most looking forward to for the show, McHugh explained that she can't wait to see the Dance 1 students perform for the first time.
"[I look forward] to seeing the [Dance 1 students] perform because…I've seen their growth and how hard they've worked," McHugh said. 
Oakmont's dance show will take place Dec. 9th, 10th, and 11th at 7 p.m. as well as 2 p.m. on Dec. 11th. The show will showcase Dance 1, 2, 3, 4, & IB Dance for the fall 2021 semester and is the first on-stage performance for many dancers since the beginning of the Covid-19 pandemic. 
"I'm mostly looking forward to all the people that are going to show up [to the shows] because we haven't had a dance show in . . . two years," Bachman said. 
Student directors and Oakmont's dance officer are tasked with helping out in every way possible to make sure the show runs smoothly. Responsibilities they have include: picking costumes, cleaning dances, leading warm ups, selling tickets, making the show program, and so much more.
"Our roles and responsibilities are . . . leading by example . . . [since] a lot of dancers don't really know what to expect because it's their first show," Vargas said. 
This will be many students' first dance show as well as new Oakmont dance teacher Abby Huber's first show.
"I am so excited for a fresh start and a lot of change," Huber said. "But, there is also a lot of stress that comes with all that change . . . so, it's overwhelming but super exciting."
Almost every dance being performed in the shows has been created by students and showcases ample creativity and hard work. Most importantly, the dancers are excited to be able to show off their passion for dance. 
"I think people should watch the dance show especially this year because things are finally getting back to normal," Schell said. "It will be great to have dancers doing what they are passionate about back in front of an audience."