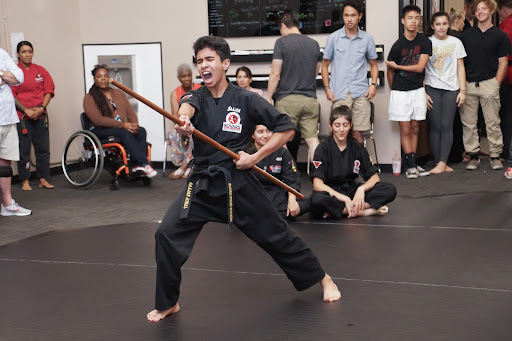 Saajan Johal
Senior Saajan Johal won a national tournament in Reno with his extreme martial arts (XMA) team Oct 22., making them national champions for the first time. 
XMA is a performative form of martial arts that combines Taekwondo, Gymnastics, and Breakdancing into a routine that is then performed for judges. 
Johal's team, the Red and Black Tech, received an almost perfect score of two 10s and one 9.98,  an incredible score considering only three 10s were given out that day. 
"That was really exciting seeing those two 10s," Johal said. "I'm just really glad that we went and came first place."
Johal worked hard to be able to succeed through the levels at his dojo, until he was finally able to join Red and Black Tech about 2 years ago. 
"I was invited to join them once I became a black belt and they saw what I could do," Johal said. "I became what they call a 'future star,' which is when I practice with the team, but don't perform with the team. So, I get to learn a bit more about what they do. Then, after about a year, I did my various tests and I became a member of Red and Black Tech."
Practicing XMA is both important and fulfilling for Johal, as he really enjoys improving upon his skills.
"I really like the progression aspect of it," Johal said. "I like how you can always be learning, you can always get better. There's always new stuff. There's people you can learn from."
Martial arts isn't simply an extracurricular activity, it's a crucial part of Johal's life thus far and has allowed him to better himself in ways outside of the sport.
"I think it's allowed me to become a better speaker and a better communicator," Johal said. "It's given me a lot more confidence when talking to people. It makes me want to talk to people and learn more about people." 
Johal also loves the tight-knit community surrounding XMA because while it is small, it is full of open-minded people willing to learn from each other. 
"There's quite a small community of people doing XMA and trickers," Johal said. "So, it's interesting when you find people that have the same interests as you and you can learn and share from one another."
Johal is excited to celebrate this win with his friends, family, team and others that enjoy XMA.