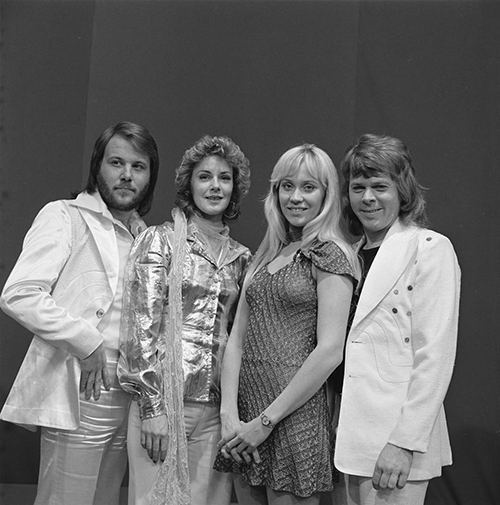 Wikimedia Commons
The Swedish band ABBA getting back together has been one of the most noteworthy reunions in recent decades. Somehow, one of the biggest pop groups ever, having achieved 48 hit singles and topping worldwide charts from 1974 to 1983, secretly reunited to create a new album.
Years ago, the group ABBA, known for heartbreak and sequin-studded pantsuits, were in the studio finishing the tragic ballad "The Day Before You Came." Both couples in the group had finalized their divorces and it was thought to be goodbye. But it wasn't.
Earlier in September, ABBA released the teaser tracks "Don't Shut Me Down" and "I Still Have Faith In You." As of November, the entire album is out.
There has never been a comeback story quite like this one; it's a dream come true for many fans.
ABBA's ninth and final studio album explores their first release of material in 40 years. Alongside this release, the Europop group will put on a high-tech stage show in May of 2022 featuring digital avatars of their younger selves.
 "Voyage" is a follow-up to the 1981 album "The Visitors,"  seemingly frozen in time. It may be surprising to hear that the songs are newly released. Despite its aged sound, the album is something your parents won't have heard growing up.
Basically, ABBA picked up right from where they left off.
Aside from some dull cover art of the horizon, the album is polished with 9 well-crafted songs. ABBA has truly mastered the structure of verse, chorus, and bridge sections, piecing the album together harmonically.
The world's appetite for the group is forever insatiable, as they've sold 400 million albums and their songs are streamed 16 million times per week. At least some of the 10 tracks on "Voyage" quench this desire.
ABBA's final album begins with the song "I Still Have Faith in You," which in truth, needed to be sung. The track stands as a reassuring message to listeners, declaring that ABBA is back.
A few songs in their new release, such as "Just a Notion," are older songs, but in this album we get to hear them for the first time. The track revives an outtake from an older album, which follows the styles of the 50's, complete with 50's-style piano and a creeping bass line. It is definitely ABBA from the old days.
One of the best songs in the album, "Don't Shut Me Down," is a worthy throwback. Its silky grooves and melodies allow the song to burst into 70's-flavored disco, incorporating lines such as, "I'm like a dream within a dream that's been decoded."
It's a bit hard to reconcile with the slightly disappointing songs such as "Little Things" offer. The track is toward holiday cheer and distastefully cliche.
Another song that didn't fulfill fan's expectations was "I Can Be That Woman", a weaker track of family drama that could have been redeemed with some pace and a decent tune. It's regressive in its songwriting, as it pins blame on the singer rather than her abusive lover.
"Keep An Eye On Dan" is another catchy number with an ominous tune, but it doesn't entirely fit with its simple lyrics.
The song "Bumblebee," which is reminiscent of "Fernando" at the beginning, touches on global warming, vocalized in lines such as, "To think we could be trapped/Inside a world where all is changing/Too fast for bumblebees to adapt."
ABBA's weaknesses in this album become their strengths. Like any ABBA album, "Voyage" is a flawed little masterpiece. It has odd lyrics throughout with themes of life, love, and heartbreak. It's a little more modern, but with the everlasting ABBA touch.
The album was recorded "trend-blind," disregarding the fashions of the current music industry.
Their return gives listeners a sense of stability, continuing songs from old times. Even with the gap in their career, they have maintained the iconic ABBA sound, only maturing in their vocals.
The closing track, "Ode to Freedom," is a quietly powerful piece that begs to be longer with a roaring crescendo, yet this song sums up the band exquisitely.
With the story telling, vocals, and production in this album, there is really something for everyone. Listeners can relive the ABBA experience. In all honesty, the album is underwhelming at its first listen. It takes time to take "Voyage" in and to enjoy what the new tracks have to offer. 
Nonetheless, the album is a happy ending to the band's story.