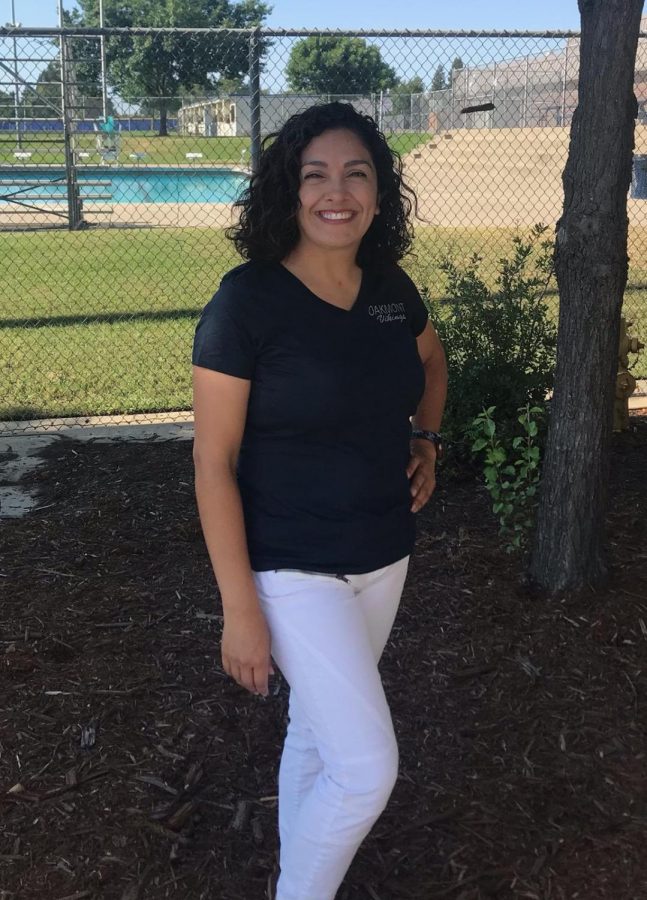 Isabel Govea
As Oakmont says goodbye to Principal Hasty wishing him well in his future endeavors, we welcome our new principal, Dr. Isabel Govea, for the 2021/2022 school year. 
On Wednesday Aug. 11, Oakmont students returned to campus greeted by many familiar faces, but also many new ones, even of faculty members, such as leading figurehead Govea. 
Originally teaching math and then becoming a principal at the elementary level, Govea felt a deep desire to help students beyond her original outreach. 
"I thought I was going to be a teacher forever, but I started to feel like I wasn't reaching as many students as I felt that I needed to," Govea said. 
Growing up in a small town then moving to study at CSU Sacramento was a big change for Govea. Moving to a city meant losing the sense of community she had growing up, which she yearned for and found again at Oakmont. 
"All the stars are aligning for me," Govea said.
She is completely starstruck with the amount of opportunities she has and will continue to have to help students at Oakmont.
"I always try to lead with my heart," Govea said. "I see my children in the students at these schools that I work at."
A maternal approach to her job means she aims to make high school an enjoyable experience for all, instead of a monotonous job we have to complete. 
Govea believes experiences in the arts and Career and Technical Education classes could aid students in not only their high school years, but beyond, leading into hobbies, or even careers. 
"It balances your life, even when you don't know you need it," Govea said. "The more variety we have the better."
In Govea's mind, classes like this can act as coping mechanisms for some students. This highlights the importance of mental health to our new principal and her focus on erasing the stigma around reaching out for help. 
"Needing support isn't a bad thing," Govea said. "It's not a weakness."
Govea continues to advocate for the Wellness Center, as while it is a relatively new facility, it can provide services to any student who is struggling.
However, she does not think all the support for a student should come from the school, as parents can be just as, if not more, helpful to adolescents.
"[Student mental health is] a partnership between the schools and the parents," Govea said.
With many reports of COVID-19 each day, Govea dedicates a majority of her time to sorting through reports at Oakmont, but aims to carefully relay the information to the student body and parents in order to prevent hysteria.
"I want them to take it seriously, but not panic," Govea said.
While COVID-19 will dictate much of how Govea leads our school these coming years, she still understands the need for students to have an as normal as possible high school experience. 
With her mantra of leading with heart, we are optimistic that she will lead us into a great era for Oakmont.