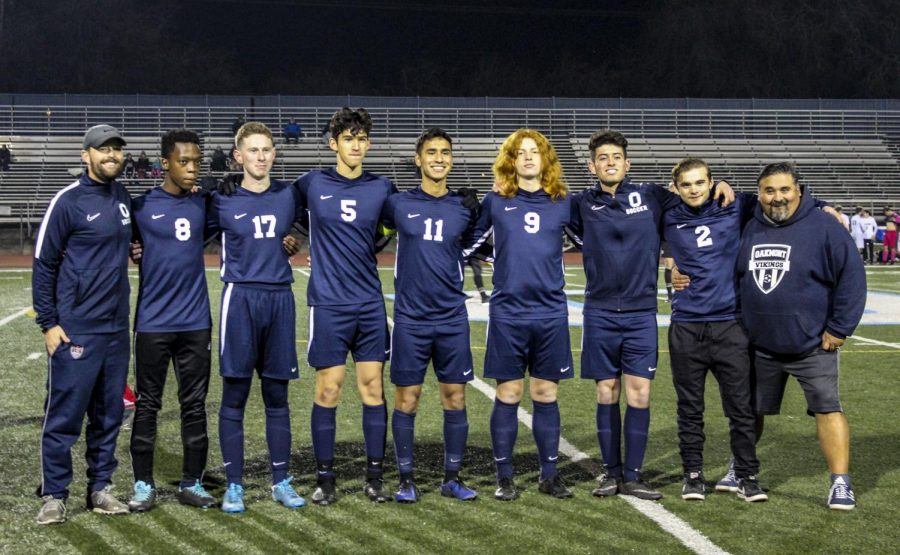 Marika Alexander
The boys' varsity soccer team had their last home game on February 6, winning 2-1 against Placer High School.
For the seniors  this was their last game playing in their home stadium.
"It was a really fun experience," senior co-captain Noah Collins said. "I'm going to miss everyone I was playing with."
For the past few years, seniors  Christian Barajas, Noah Collins, Ben Gonzalez, Javi Gonzalez, Pete Gonzalez, Njabulo Mkhize, and Jake Neiman have dedicated their time to support our school in the sport they love: soccer. 
Most of these boys have been playing this sport for their whole lives. Looking back on the progress that they have made, they would not trade anything for the memories made together as a team.
"They're like some of my best friends," Javi Gonzalez said. "I love talking to these guys and I feel like I'm going to continue being friends with them even after soccer ends."
For them, this team became a family filled with people they can always rely on. 
"I definitely have created a lot of friendships that I want to carry on," co-captain Christian Barajas said "It's just a positive place that I can always go and hang out with the people." 
This team has supported each other through thick and thin. Coming off of a league championship in the 2018-19 season, the returning players have had to learn how to incorporate their new teammates into the family in order to continue their quest for success. Their time playing together is something that they plan to treasure forever. 
"We are very proud of the boys who are graduating," coach Tom Sinner said. "They have come out every season ready to learn and get better. The seven seniors that we have this season have been excellent leaders to the underclassmen. They have laid the foundation for many years to come."