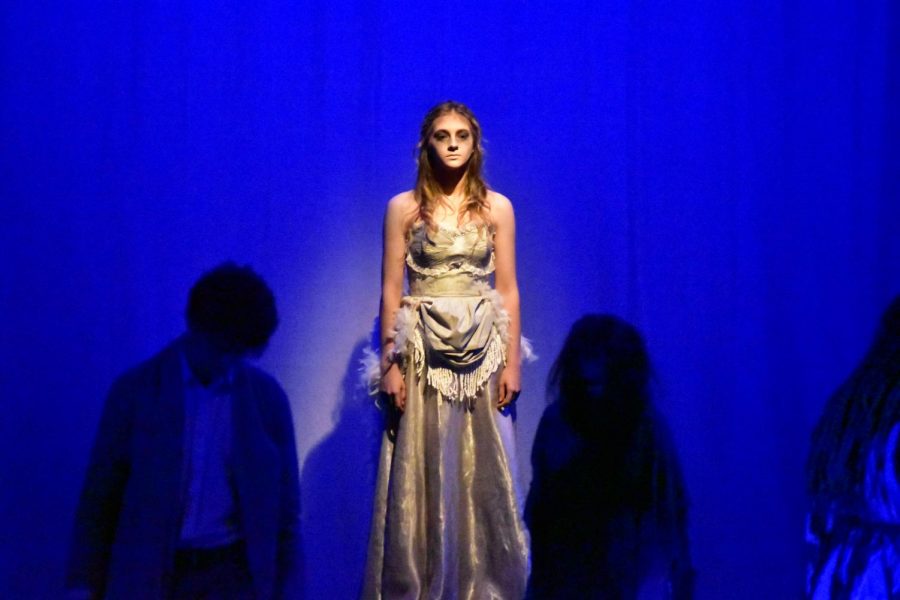 Ciaran Henderson
On October 31, the professional drama class performed their annual Halloween-themed show during each class period and once after school for students and teachers to enjoy.
"I think [the Halloween show] is important because Oakmont drama gets to showcase all the hard work we do for the rest of the school," sophomore Jack Earnest said. "This is the one opportunity where the school can get an easier glimpse of what we do every year."
This year, the show was called The Adventures of the Everlasting Club.
"I've really liked working with the student director because she has so much experience and watching her is amazing," junior Emily Powell said.
The student director for the production was sophomore Eleonore Desmond.
"Directing this show was an honor," Desmond said. "My favorite part was getting to work with an awesome cast and crew."
It was based on a real-life paranormal investigation done by The Ghost Club that tried to find ghosts in the Greenock Fire Station in London on April 25, 2015.
"I've always enjoyed the moments I spend with my cast members and seeing them grow throughout the production," senior Kiana Pine said.
The production was centered around an interview between a journalist and a woman who was formerly part of the Ghost Club.
"I thought it was really good, especially the screaming, which added a scary element to it," sophomore Mia Beamenderfer said. "I could tell that all of the cast worked really hard."
The professional drama class worked on the production for about a month and a half before performing it for their peers.
"Without teamwork, our show would've fallen flat on its face," Earnest said. "Our tech crew, actors, and director worked so hard to make this Halloween show the best one to date."
During the show, the characters were haunted by various ghosts in the fire station's locker room, AV room, and storage room.
"My favorite part was definitely all the cool lighting and sound effects," Earnest said. "That really brought the whole show together and made it [very] scary."
Many students during the second period show started chanting the name "Alfred John," because they were so impressed by the actor who played him and the show in its entirety.
"I was most excited for the ending because it was very climactic," Powell said.
At the end of the play, it was revealed that the woman being interviewed throughout the play was still possessed by ghosts from the fire station. The journalist interviewing her was grabbed by the evil ghosts to end the show dramatically.
"[Although] I was director, it was truly a team effort," Desmond said. "With such a supportive cast, it was easy to put in all the hours."